Baybrook Mall
The Baybrook Mall is located in Friendswood, TX and is a premier shopping center located on the Coast of Clear Lake and surely one of the best mall in Greater Houston. Open throughout the year; it hosts a variety of events while offering shopping and dining experiences for all those who wish to visit. There are pet nights, toy drives, photo opportunities and more that are held throughout the year for guests to experience more than just an ordinary shopping trip when they visit a mall in Houston.
Holding just under 200 unique stores, shops, restaurants, and a movie theater, the Baybrook mall is in the top 5 largest malls in Houston. A shopping place the locals love and tourists flock to, as it hosts the solutions to every need and wants and offers a great place for friends and family to relax, shop, dine, and more. The Baybrook Mall is a great place to enjoy an afternoon or spend a night out on a date, as there are many entertainment and dining opportunities surrounding it.
Following your favorite mall is always the best way to stay up to date with the latest news and information about sales events, new stores and new products. Also special family events, contests and special opening hours are often shared via the mall's Facebook. Follow them and never miss out on interesting news.
Mall Address
To find the mall in Friendswood, check out the address details and GPS below. Use the embedded Google maps for a detailed map of the mall.
1132 Baybrook Mall Dr
Friendswood, TX 77546, United States
GPS: 29.542338, -95.148692

Mall Office: (281) 488-4627

Official Website: www.baybrookmall.com
Opening Hours
Opened 7 days a week, the Baybrook Mall provides plenty of time to shop. For restaurants and entertainment venues different hours apply, so check out the official site's hours. Also note that the mall has extended hours for holidays, Black Friday and extra long weekends. Always check the schedules around those times for any changes.
| | |
| --- | --- |
| Monday | 10:00 AM - 9:00 PM |
| Tuesday | 10:00 AM - 9:00 PM |
| Wednesday | 10:00 AM - 9:00 PM |
| Thursday | 10:00 AM - 9:00 PM |
| Friday | 10:00 AM - 9:00 PM |
| Saturday | 10:00 AM - 9:00 PM |
| Sunday | 12:00 AM - 6:00 PM |
Stores Directory & Brands
Of the almost 200 incredible stores, restaurants, and shops, are a variety of different interests and something for everyone. For instance the jewelry stores in Baybrook mall are really nice to shop, like Helzberg, as well as many shoe shops, like Champs or  what about the Apple Store? Check out the complete list of stores in the Baybrook Mall directory and how to obtain a Baybrook mall store map, to plan out your next trip to Friendswood.
Directions and Parking
To get to the Baybrook Mall from Houston, take I-45 South from Jefferson St to Gulf Fwy and take the Friendswood Clear Lake City Blvd exit, follow signage to the Baybrook Mall. Once guests arrive, they will find a wide variety of parking options. With ten parking lots surrounding the exterior of the mall, they will find one of 8,300 parking spaces. There are even covered parking options in the single-level parking deck. While sometimes finding parking is difficult on weekends the Baybrook Mall offers valet parking for $10 to all guests. For major events, such as Black Friday, there will even be special parking officers to help guests find the best spots, so they do not have to miss out on a great shopping experience.
Mall Services
The Baybrook Mall also includes a variety of guest services all geared toward making sure that each of the millions of visitors that make an appearance year-round have a chance to make the best of their trips. The Baybrook Mall boasts free Wifi for all visitors, mobile device charging stations, a lounge, a nursing lounge, taxi services, valet parking, wheelchairs, auto jump starts, family restrooms and even safety escorts for those who do not wish to walk to their cars alone. During the holiday season there is of course the opportunity to have Santa pictures taken with either your kids or the whole family.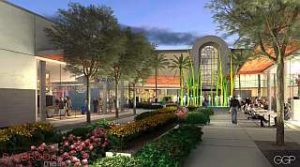 Renovation and Expansion
The first part of the Baybrook mall expansion finished end of 2015 and is a truly remarkable one, as shown in this video how much a mall can improve and better serve customer's expectations. This expansion added 30 retailers and restaurants to the directory and added more entertainment opportunities with Dave & Buster's and Star Cinema & Grill, places to visit after a day of shopping or enjoying a night out. The expansion also included a large lifestyle center, providing 285,000-square-foot space for outdoor leisure and more entertainment. But this isn't all of it.
The mall is working on a second expansion, which is a 270,000-square-foot power center with even more retailers, like Dick's Sporting Goods that is now open and a brand new parking garage to increase the number of parking lots required for such a large mall.
Baybrook Mall Restaurants
The Baybrook Mall is home to 45 dining options from steakhouse, pub style to sushi, there's plenty to choose from. While many of these are snack shops, others are quick-serve and full-service restaurants that are eager to feed hungry shoppers. Among some of the snack options are an Auntie Anne's, Cinnabon, Dippin' Dots, Fresh Healthy Café, Marble Slab Creamery, Starbucks, and several others. Full-service restaurants include a Dave and Busters, Denny's, The Cheesecake Factory, Bar Louie, Kona Grill, Perry's Steakhouse and Grille, Yard House, Maggiano's Italian Restaurant and much more. Finally, for those looking for a quick bite to eat there are 14 quick-serve options including China Mix, Kelly's Cajun Grill, The Melt and many others.
Star Cinema Grill
The star feature of the Baybrook Mall is the brand new Star Cinema Grill, which opened as part of the first renovation phase of the mall. This offers hit movies all year long with a fun atmosphere. Not only does the Star Cinema Grill offer movies, but food as well. With ten screens, the theater shows movies throughout the day and evening with all the big motion pictures! Stadium seating offers optimal viewing along with seating for disabled persons. Check out the theater's official website for the full movies and show times schedule, which you can enjoy even after the mall's closing hours with the last movies starting at 10:55 PM.
Environment
Guests visiting Friendswood do not need to stop their trip at the Baybrook Mall, as there is much to explore. Just outside of Houston, it is not a far trip to a big city boasting an urban lifestyle. However, for those who wish to stick near Friendswood, there is plenty to do. The Friendswood Historical Society offers tours of various locations and puts on a Heritage Day Festival for tourists and locals. Friendswood boasts a large golf course, Timber Creek Golf Club, a shooting range, Best Shot Range, and a spa, Bergamos Spa Retreat. Enough entertainment to combine a one day trip to the mall or a long weekend stay in Friendswood.